Try to schedule appointments when you can continue to relax afterwards and integrate your session. 
When you arrive for your first appointment the therapist will have you a client intake form to complete. It will include general health questions, since there are some conditions for which massage is not appropriate. The therapist will discuss the information you give her on the form.
The therapist will step out of the room, allowing you to undress in the privacy of the massage therapy room and then relax onto the table and cover yourself with fresh clean flannel linens.  Most people undress completely, although you may choose to wear your undergarments. You will be fully draped at all times during the massage, except for the area being worked on. Draping of the client is required by Missouri law.
The massage table has been especially designed for stability and comfort. There is a table warmer for additional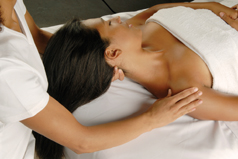 client comfort, but this can be adjusted or turned off at the client's request. The music that is played during the session is selected for its ability to help clients reach a deeper relaxed and meditative state. 
The therapist will use a light almond oil which is good for the skin and easily absorbed. 
A massage will usually start with lighter touch, gradually increasing pressure to work deeper in more specific areas.
Close your eyes, take some deep breaths and allow yourself to relax during your massage. The therapist will move or re-position. your limbs for you if necessary. Do not hesitate to ask questions about what the therapist is doing. Tell your therapist immediately if you feel any discomfort so she can adjust accordingly. It is important to remember that this is "your massage" and the therapist is there for you. 
A 70-minute massage is the most popular length for a full body massage. A half hour massage is often beneficial for spot work. A 90 minute massage can allow additional time for problem areas. The benefits of massage will extend well beyond the actual length of the session. 
When the massage is completed the therapist will leave the room allowing you time to dress. She will instruct you to get up slowly from the table, because of your relaxed state. 
It is important to drink lots of water after your massage session to help the body re-hydrate. A warm salt and soda bath can also be very beneficial. See "extending benefits" for more helpful hints to help you stay relaxed after your massage.
When scheduling your appointment please inform the therapist if you are pregnant, as pregnancy massage is not offered at Quiet Moments or if you are under a doctor's care for any conditions for which massage might be contraindicated.